经过多年的研发和优化,FAAM有了许多优秀实用的产品,2021年,让我们来看看可以在FAAM购买哪些产品呢?
After years of research and development and optimization, FAAM has many excellent and practical products. In 2021, let's take a look at what products can be purchased at FAAM.
01
牵引用铅酸蓄电池
Lead-acid traction batteries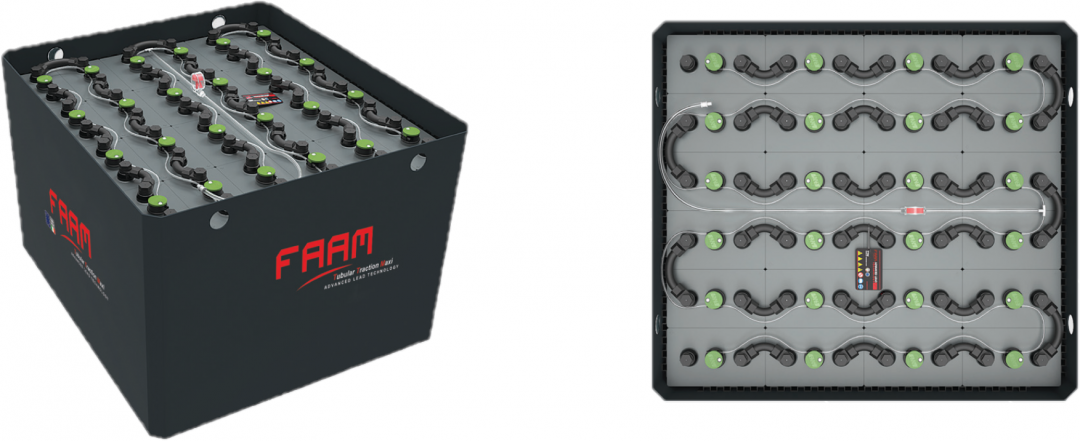 这是随FAAM成立以来,跟随FAAM成长与进步的老伙伴,在宜兴法阿姆接近15年的历程中,进口原辅材严苛的质量控制,精湛的欧洲工艺,是我们电池寿命循环1500次的保证!
This is an old partner with FAAM's growth and progress since the establishment of FAAM. In the course of nearly 15 years of Yixing FAAM, the strict quality control of imported raw materials and superb European technology are the guarantee of our battery life cycle 1500 times!
02
防爆电池
Explosion proof batteries
每一组防爆电池都有经验丰富的FAAM技术团队的成员进行制造,并根据客户使用场所和防爆等级进行特别定制,可提供国家认可的防爆证书。
Each group of explosion-proof battery is manufactured by experienced FAAM technical team members, and customized according to the customer's place of use and explosion-proof level. National explosion-proof certificate can be provided.
03
工业用锂电池
Industrial lithium batteries
随着微电子技术的发展,人们对电源的要求也逐渐升高,锂电池成为了工业储能领域最具创新性的解决方案,FAAM锂电池也随之而来。
With the development of microelectronics technology, people's requirements for power supply are gradually increasing, lithium battery has become the most innovative solution in the field of industrial energy storage, FAAM lithium battery also followed.
最新发布-LiBlock SERIES
New Product- LiBlock SERIES
长寿命、无污染、重量轻、功率大、免维护,FAAM锂电池团队也会根据客户的要求进行特殊设计,您的需求是什么,FAAM都会尽量满足您。
Long life, no pollution, light weight, high power, maintenance free, FAAM lithium battery team will also be based on customer requirements for special design, what your needs are, FAAM will try to meet you.

04
其他
Others
除了以上的牵引用铅酸蓄电池、防爆电池、锂电池,如果客户有其他需要,FAAM会倾情提供各类电池零配件。
In addition to the above lead-acid batteries for traction, explosion-proof batteries, lithium batteries, if customers have other needs, FAAM will be inclined to provide all kinds of battery accessories.